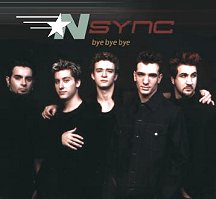 Cover for the new single "bye, bye, bye."
*N SYNC
will release
No Strings Attached, their debut release from Jive on March 21. The first single "Bye, Bye, Bye" will hit radio on January 11. Single will be out on the 17th. The video for the single was directed by Wayne Isham and will debut on MTV's "Making The Video," on January 24. Diane Warren, Richard Marx, Rami (co-producer of "...Baby One More Time") and Kristian Lundin (co-producer of "Quit Playing Games (With My Heart)" have all contributed to the No Strings Attached album. *NSYNC will perform "Bye, Bye, Bye" on The American Music Awards, January 17. The group will also appear on MTV's TRL (1/26), Good Morning America (1/28) from Atlanta, GA and again on MTV's TRL live from the Superbowl in Atlanta, GA (1/29). Episode of "7th Heaven" guest starring Lance Bass has been reschedule for January 21. 'N SYNC's 1998 debut album went diamond(10 million copies sold) on January 5, 2000. "TRL Superbowl 2000" will feature a performance by 'N SYNC. It will air on January 29th.
Feb. 7- Teen People Mag. featuring the one and only 'N SYNC! Hit in stands.
March 10- Rolling Stone Mag hits stands.
March 14- Teen Mag
March 20- TV Guide Cover Story
June- Possible release of NSA Home Vid./DVD

Previous Page
Next Page